1985 - WHERE IT ALL BEGAN
Origins

Before Crystal Faith was a band named GYPSY that featured a main core of Erik Simard and Ricky Stewart, two buddies of long standing. 
Believing they could write good songs, they began to work on their craft.  Two events triggered their creativity: the first was a Judas Priest concert, The "Defender of the Faith" tour that stopped at the Collise de Quebec on march the 30th, 1984.  Then came the broadcast of the US Festival (metal day), that Erik recorded on a VHS tape: it became the soundtrack of their summer, playing constantly in the background.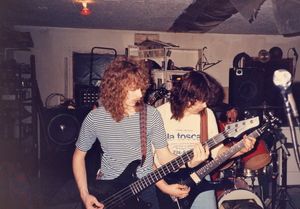 First Recording

Gypsy's first recording took place in the summer of 1985 and featured Erik Simard on guitar, Ricky Stewart on bass, Remi Boutin on vocals and Dominic lavoie on drums.
 
Short on cash for extended studio time, the demo was made in Erik's parent's basement with the help of Patrice Girard.  That demo consisted of:
Electric Chair (Simard)
Dust  (Simard) 
You're Gonna Pay With Your Blood     (Simard-Stewart)
First Concert

The band's first outing featured the same line-up as the recording with the addition of Jean Fortin on bass and a little help from their friends, as Erik's Gibson Les Paul Custom guitar and Mesa Boogie amp were lent by guitar teacher Marco Paradis and the drums by Sylvain Bouchard.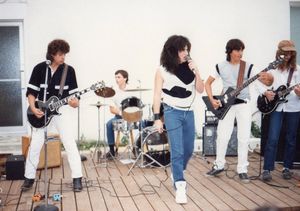 Opportunities & Changes

That first taste of live performing revealed the need for a drummer with more experience and, after the concert, Sylvain Bouchard joined the band on drums.  Afterwards, singer Remi Lavoie became unavailable for a long period which forced Bouchard and Simard to add singing to their responsibilities.  During that time,  Bouchard brought in an electronic drum kit to which Simard declared that the toms sounded more like  doorbells than anything else;  Bouchard and Stewart then humorously made sure to always remind him of his comment.

With the return of vocalist Boutin in the line-up, an unexpected opportunity came to record in a real studio and he suggested to stir the roster a bit by having Stewart play bass; it was difficult for him to embrace it but he finally took the job for the good of the team.
If You Can't Beat 'Em, Join 'Em.

In every city there is some competition amongst local musicians and GYPSY's main competitor found itself in hiatus.  Singer Boutin suggested that they bring their lead guitar into the fold and everything started happening very fast, as the guitarist expected them to give him a call and when it came, Marc Fournier joined GYPSY.

With the new line up settled, the band started to work on strenghtening the songs musically and sonically.

 
Setting to tape

GYPSY's first studio recording took place on the 22th of november 1985 at studio Cme in Jonquiere, Quebec, Canada.  The session was produced in a few hours and everything went smoothly for their first experience in a professional setting.  
Vocals : Remi Boutin 
Guitar: Erik Simard 
Bass: Ricky Stewart 
Guitar: Marc Fournier 
Drums: Sylvain Bouchard 
1986 - THE STAR THAT SHINES THE BRIGHTEST BURNS TWICE AS FAST
Another year, another drummer
By 1986, Metallica's "Ride The Lightning" was now the standard by which the band members set their goals on.  They considered Metallica the best band in the world at that time and embraced the emergence of trash metal during that year.

Those new sounds commanded new equipment needs and Marshall's JCM 800 stacks was now part of the guitarists arsenals.  They also realised that they needed help on drums to achieve their new sound and some new versatility and flash to play live.
Fournier's older brother Martin seemed the man for the job and they welcomed him into the group: he instantly made them sound heavier and with that, the band felt stronger and expected to go further.
A new original song, Nervous Breakdown, became part of the set and although the credit for this song  has never been clear, it is certain that singer Boutin's use of different voices for the song's many characters was a change in the way the band approached vocal arrangements.